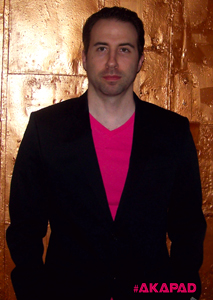 Peter A DeLuca AKAPAD grew up in Southern New Jersey and spent his time as a youth drawing, collecting comic books, and terrorizing his family as a well accomplished maniac. From an early age Peter was the typical "artist" of the classroom and was often showcased as the creative kid that was just a little off.  Always looking for a way to exhibit his passion Peter would take off of school to complete art projects because he insisted he needed more time to get it right. This led to many awards within district, and state levels in everything from illustration to fine art painting.
Other than working as your typical bus boy, line chef, retail rat gigs Peter has predominantly worked as a creative and soloepreneur his entire life.
Beginning  with a high focus on illustration and storytelling Peter set out to achieve the life ling dream of having his own comic book available in comic shops around the country. Peter collaborated with Ken Heaser for The Eyes of Asia a Diamond Comics world wide distributed title published by Digital Webbing. After this Peter worked with Alias Comics,and Blue Water Production's Darren Davis on quite a few titles including the 10th Muse. Also during this time Peter illustrated for West End Games, Hero Games on RPG manuals available in hobby and specialty shops.
Seeking new challenges Peter started The Hero Store an Online Marketplace and Ebay Store that sold pop culture collectibles. By the time the operation folded Peter had gained an understanding of website development and had a growing graphic design skill set.  Wanting to utilize this new interest  Peter attacked the local job market and shortly was scooped up a local sign shop that needed  to revamp their web design division and make good on some long overdue contracts. With a happy rebuilt client list  Design Pros had become a full fledged firm within a sign shop.  With a growing need of technology Design Pros was acquired by Consolidated Technology Management this merger landed Peter in Center City Philadelphia a few blocks from the Historic City Hall.
Currently Peter toils  as Design Pros Media's Creative Director maintaining  a dedicated client list throughout PA, NJ, and DE. To better improve DPM Peter created new SMM, SMO, and SEO products built around measurable results for clients. These products help separate DPM from all other competitors. Everyday Peter  is committed to improving DPM's local impact and overall value to it's customers, this allows him to happily rest at night.
2012 & 2013 Update Coming Soon…………..